Flawless Rejuvelite Mask Facial: Innovation for Total Beauty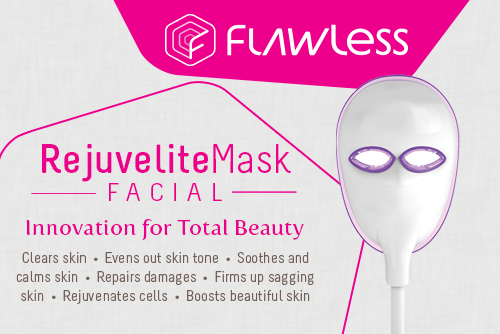 Looking for that one beauty treatment that answers all skin concerns? Or how about a treatment that brings skin vitality? Well, your search may be over.

Flawless, the country's preferred aesthetic clinic, introduces a technologically advanced aesthetic treatment that sheds light to all skin concerns-The Flawless Rejuvelite Mask Facial.

Powered by LED technology, the Flawless Rejuvelite Mask Facial activates collagen production and boosts skin rejuvenation for total beauty. This treatment works by allowing the skin to absorb light energy to produce cellular fuel and increase activity of the body's natural healing and regeneration processes.

The Flawless Rejuvelite Mask Facial offers 7 different colors of visible light and infrared light to produce various benefits to the skin, such as firming lines, soothing skin, repairing damages, clearing acne and blemishes, reducing redness, and balancing complexion.

These gorgeous effects depend on the wavelengths of light used, which is determined by color. Red and purple lights promote youthful beauty; red combats wrinkles and increases collagen production for a smoother, younger-looking skin, while purple increases cell regeneration and renewal. For damaged and irritated skin, cyan and yellow lights are useful for healing as cyan calms and soothes irritated skin and reduces swollen capillaries, and yellow alleviates redness and heals skin from inflammation, sunburn, windburn and other environmental damages.

Earlier this year, Flawless CEO and owner, Rubby Sy-Coyiuto announced that more beautiful things are coming to the beauty brand as they launched their new look and logo to the public, and the Flawless Rejuvelite Mask Facial is just one of them.

"Flawless' humble beginnings started by bringing aesthetic services within the reach of the mass through facials," says Rubby. "And what better way to introduce a new treatment, than to make a technologically advanced facial service available to everyone."

Flawless offers The Flawless Rejuvelite Mask Facials in 4 full variants, Flawless Rejuvelite Oil Control Mask Facial, Flawless Rejuvelite Acne Control Mask Facial, Flawless Rejuvelite Age Defy Mask Facial, and Flawless Rejuvelite Whitening Mask Facial, for P1,100 per session.

For those who are looking for a quick yet effective aesthetic treatment, also available are Flawless Rejuvelite InstaFacials for express Calming, Boosting, Healing, and Firming effects at P480 per session. Each Flawless Rejuvelite InstaFacial only takes 30 minutes-suitable for the busy beauty seekers.


---