Jodi's 5 Flawless Habits To Forever Youth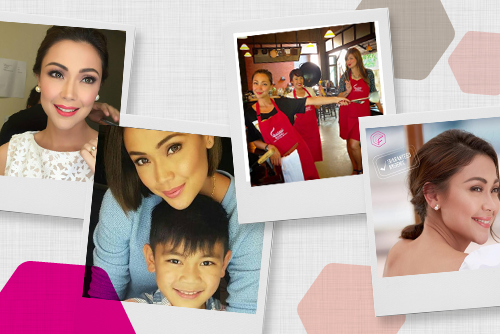 From a bubbly teen star to leading actress to a bonafide telesersye queen, we've all seen Jodi Sta. Maria grow the years. But one thing we cannot deny is that she doesn't seem to age. She keeps looking younger and more Flawless year after year. So what's her secret? Well, you're in luck 'coz we are spilling our insider info on how Jodi keeps her youth!
She Is What She Eats
And boy, she eats well. Jodi definitely loves her greens, she goes for healthier options and has no vices all in respect to her body. No wonder her skin just glows with all the antioxidant-rich foods that she eats.
Fitness Focused
With her tight abs and perfectly sculpted legs and arms, people tend to forget that Jodi is already a mama. All thanks to her fitness regimen, this Flawless mom has no trace of sagging or loose skin in her body.
Love-Surround System
We all know the effects of being in the company of positive people. And Jodi makes sure that she surrounds herself with the people she loves and trusts, this gives her peace and the right focus she needs in her endeavors. This is why she smiles all the time, which leads us to our next point.
All Smiles & Joy
Flashing a smile gives you an instant face lift. That's why Jodi happily pursues things that will bring joy to her and to others. She gives extra effort to entertain her fans, leaving smiles in their faces. And when she spends time with her son, Jodi isn't afraid to play silly or even child-like. Adorbz!
Flawlessly Pampered
Despite her busy sched, Jodi makes sure that she gets the beauty pampering she truly deserves. And of course, she gets the right kind of aesthetic care only at Flawless. What are her fave treatments? Well, she keeps dullness and wrinkles away with Nano Powerpeel with Age Defy Mask and Skinfusion Ultima.
Want to achieve Jodi's youthful beauty? Drop by a Flawless clinic this week and enjoy Age Defy services, such as Platinum Peel, Nano Powerpeel, Skinfusion, and Fractional Needling Therapy Lift, at great discounts up to 50% OFF.
Well, there you have it-4 sexy dresses and 4 types of slimming treatments to make you a holiday star in every event you'll be in this season. Make sure to drop by Flawless this week to avail of #RacetoBeauty Slimming deals tagged at 50% OFF!
---