3 Super Remedies for your Summer Worries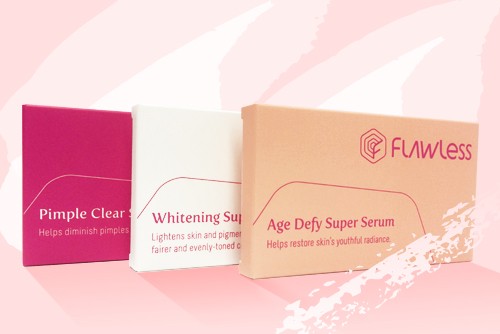 The memories that summer bring are always fun and delightful. We gather our squad, hit the beach, go on adventures, and dare to bare in bikinis. However, it's not fun at all when humidity and sun exposure take a toll on our skin, leaving us with these 3 common summer skin problems: acne or pimple breakouts, premature aging, and dark spots. Luckily for us, Flawless has super solutions for these common skin concerns.

The Prob: Acne or Pimple Breakouts
Why it happens: Heat and humidity intensify oil production than the usual. As more sebum is produced, the skin's natural oils tend to clog your pores especially when exposed to other environment elements. This causes pimples and acne breakouts.
The Solution: Flawless Pimple Clear Super Serum
After getting your Flawless facial, combine Pimple Clear Super Serum to boost your anti acne regimen.
The Prob: Premature Aging or Wrinkles
Why it happens: Harmful UV rays are basically incubators for growing wrinkles. It speeds up formation of wrinkles and fine lines as the sun's UVB and UVA rays deeply penetrates layers of the skin. And this is inevitable when you skip sunscreen from your daily regimen.
The Solution: Flawless Age Defy Super Serum
Smoothen worry lines, crow's feet, and laugh lines by applying Age Defy Serum.
The Prob: Dark Spots
Why it happens: Too much exposure from the sun overproduces melanin which causes dark spots to appear on the skin. And instead of having a nice tan, dark spots just indicate sun damage-making the skin tone appear uneven and dull.
Solution: Flawless Whitening Super Serum
Erase those dark spots by incorporating Flawless Whitening Super Serum to your daily skincare regimen.
Well, there you have it-the 3 super solutions to common skin problems of summer. And yes, Flawless Super Serums are back with new and improved formula to give you
the most Flawless results! Get ready to achieve clearer, smoother and lighter skin with Flawless Super Serums available in all Flawless clinics nationwide.
---