5 FAB Steps to a Flawless Beach Body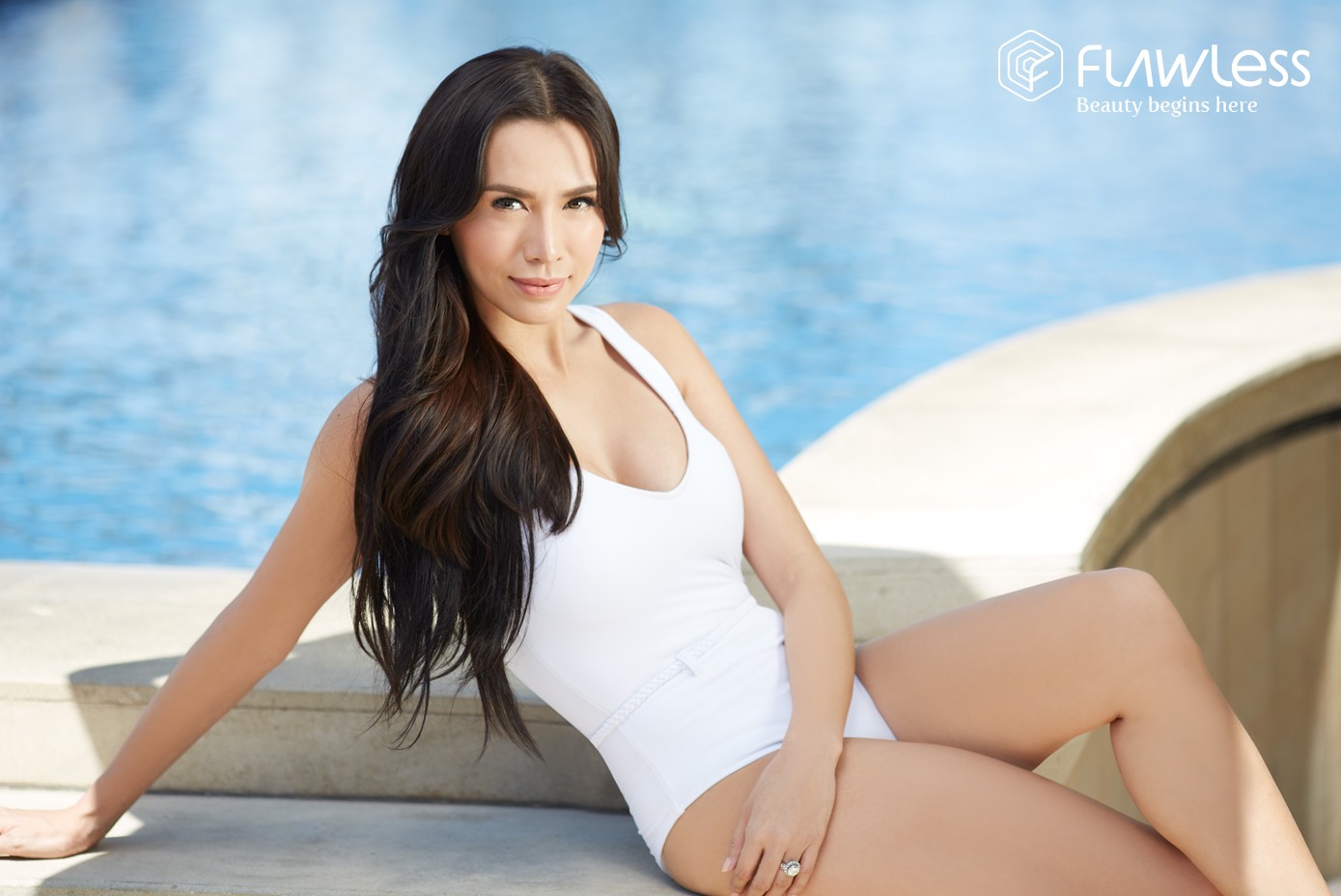 The summer heat is on! Are you ready for another season of fun and sun? How about that cute swimsuit you scored at a bazaar, is your body ready to jump in it? Enough with the worries, BFFs, because we have Flawless solutions to make you slimmer and hair-free all summer long. Check out these 5 fabulous steps to help you achieve a Flawless beach body.
Step 1: Melt stubborn fat and cellulite with Mesolipo
We get it, having bilbil on the tummy and those dimpling fat deposits on the thighs (a.k.a. cellulite) can be pretty bothersome. Good thing we have Mesolipo that melts stubborn fat on problem areas, such as: arms, tummy, thighs, and even saddlebags. Mesolipo works by injecting a concoction of active slimming agents into target areas where fatty tissues are trapped, this dissolves fat and also tightens loose skin.
And although Mesolipo is minimally invasive, there will still be light bruising on areas where the concoction is injected, so better have the treatment done 2 to 3 weeks before the grand beach vacay.
Step 2: Shape & Sculpt areas you're flaunting
If you're looking for a pain-free slimming treatment that reduces fat, tones up muscles, and contours the body with zero downtime, then Flawless Shape & Sculpt may be the best body service for you. Shape & Sculpt uses a synergistic system of cavitation ultrasound, radio frequency and interference muscle toning to slim down and tone up the face, arms, abdomen, hips, thighs and legs with result visible in just one session.
To get rid of that bloated belly problem, try Shape & Sculpt for the abdomen area a day before you wear that bikini.
Step 3: Remove unwanted hair with Waxing or Laser
Don't make the mistake of not going hair-free this summer. Try our permanent and semi-permanent hair removal treatments to leave your skin smooth and flaunt-worthy. For an instant and semi-permanent hair removal solution try our Waxing services that will leave you hair-free for up to 2 weeks. And for a more permanent solution, try Laser Hair Removal which emits laser light to penetrate and destroy hair follicles while keeping the skin protected from extreme heat.
#FlawlessFYI: Our Laser Hair Removal service uses the gold standard in Diode System and is performed by our expert Flawless MDs to assure safety and quality results.
Step 4: Get sun protection

After you get your body toned and hair-free, don't forget to keep your skin protected from UVA and UVB rays. For face, use Flawless Skin Protect Gel, which is ideal for oily or acne-prone skin types, or ISKIN Daily Sunshield with SPF 25 (also available is ISKIN Tinted Sunshield with SPF 25, which works as an ideal makeup base). For the body, maintain your radiant glow with Flawless Skin Lightening Lotion with Sunblock.
Step 5: Nourish your skin
After basking under the sun, or even while you're at it, keep your skin nourished and protected from the inside-out with our newest skin loving supplements, Bella Beauty and Bella Trim Nutraceuticals.
Bella Beauty Nutraceuticals (Php 1,600) is a 3-in-1 dietary supplement that helps lighten the skin, delay signs of aging, and protect skin from harmful UVA/UVB rays (yes, it's also an oral sunblock!). And while Bella Trim Nutraceuticals (Php 3,900) also contributes to skin whitening, age defying, and sun protection, it also aids in weight loss.
Need more advice on how to get the best of your Flawless Summer? Well, here's a bonus tip: avail of our Hair-Free Beauty and Slimming Duo bundles for a sulit beauty spree.
Hair-Free Beauty Deal 1 offers a package of Laser Hair Removal on underarm, lower leg, and bikini areas and a Flawless Skin Lightening Lotion for only Php 19,000; Deal 2 offers Waxing treatment on underarm lower leg, and bikini (Php 1,900) or Brazilian (Php 2,100) areas and also comes with the same lotion.
And for a bikini-ready tummy, grab our Slimming Duo that combines Shape & Sculpt and Mesolipo with Flawless Bella Trim nutraceutical for only Php 12,250. You can also go for two (2) sessions of Mesolipo with the same nutraceutical for only Php 12,700!
Better head down to a Flawless clinic near you to prep for your next summer adventure. See you in our clinics!
---