Better Skin & Body by Flawless Nutraceuticals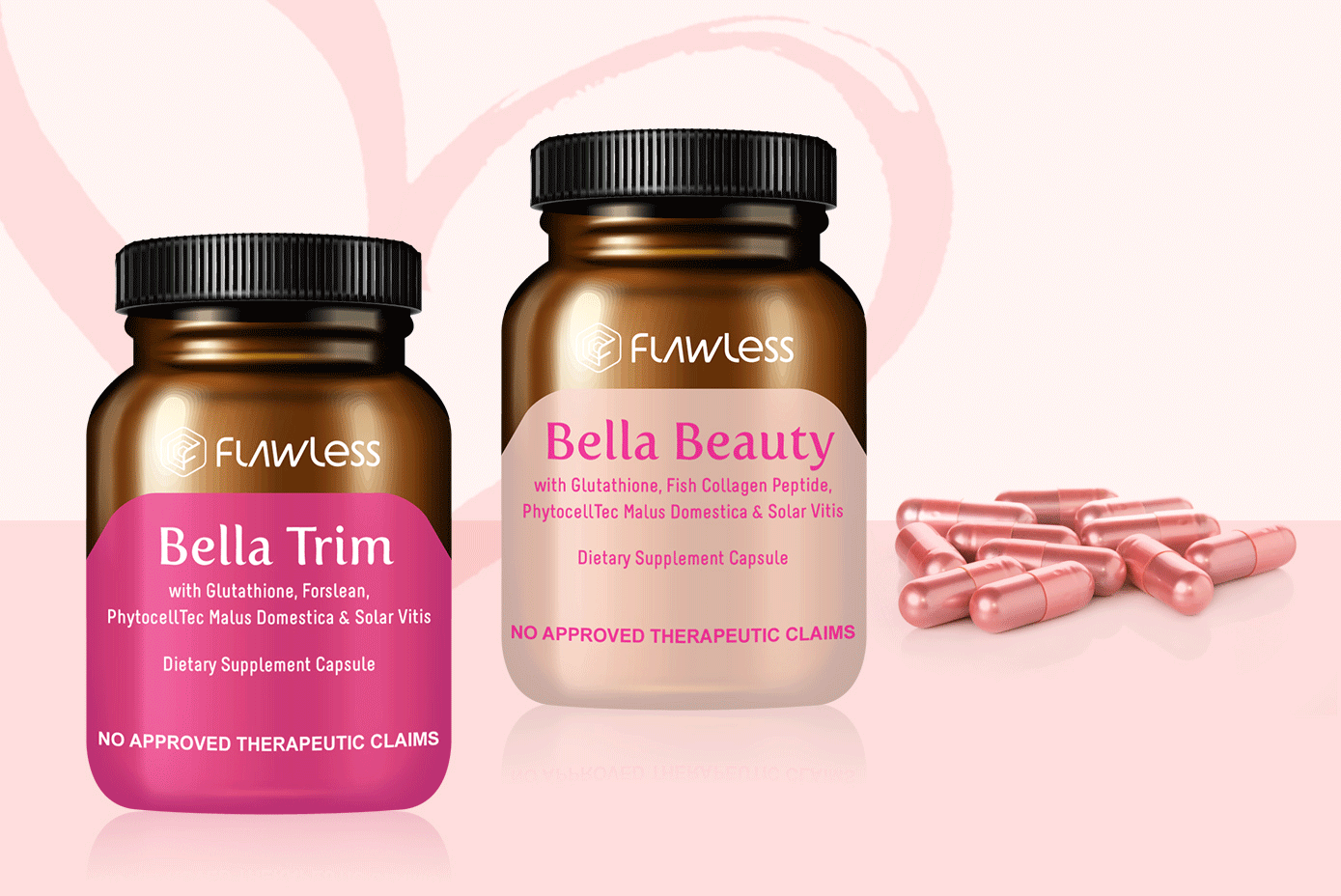 Imagine a dietary supplement that delivers all your skincare needs for age defying, skin lightening, sun protection, and even weight loss. It's possible with Flawless Nutraceuticals Bella Beauty and Bella Trim capsules.
Packed with nutrients, Flawless Face & Body Clinic's newest skincare supplements under their Nutraceuticals line promise multiple beauty benefits in a single capsule. Bella Beauty Nutraceuticals is a 3-in-1 dietary supplement that supports skin whitening, age defying and sun protection with its Reduced Glutathione, Fish Collagen Peptide, PhytocellTec™ Malus Domestica and Solar Vitis ingredients. With a well-maintained healthy lifestyle and proper food intake, Bella Trim Nutraceuticals is effective as a weight loss support with its Forslean™ and Piper Nigrum Extract components, plus whitening, age defying, and sun protection benefits, too.
How Bella Beauty & Bella Trim Work
As Flawless takes a holistic approach to beauty, each Bella supplement is formulated to support and enhance the effect of every Flawless client's ongoing treatment or regimen.
To support treatments for whitening and age defying, Bella Beauty Nutraceuticals contains Reduced Glutathione (the active form of Glutathione), an antioxidant that boosts immune system, protects cells from stress or free radicals that also results to lighter complexion; Fish Collagen Peptide that repairs and regenerates cells for a firmer, more elastic skin; PhytocellTec™ Malus Domestica, a stem cell extract derived from rare Swiss Apple to increase vitality of skin stem cell and delay skin aging; and PhytocellTec™ Solar Vitis, another plant stem cell extract derived from Gamay Teinturier Freux Grape, that enables the capsule to work as an oral sunblock by protecting skin stem cells against UV stress.
For Bella Trim Nutraceuticals, its Forslean™, a nutrient extract from the Coleus Forskholii root, and Piper Nigrum or black pepper extract ingredients help increase lean body mass levels through thermogenic or body heating action-making the supplement an ideal workout enhancer.
"At Flawless, we educate our clients to not only focus on the services they get in our clinics, but also integrate treatments at home and with their lifestyle," explains Rubby Sy-Coyiuto, CEO of Flawless. "Let's say your beauty goal is to achieve a brighter and younger looking skin; you can't just have one treatment or rely on a single cream, you need to protect your skin from harmful UV rays or free radicals, have lifestyle adjustments and nourish your body. Our Nutraceuticals are formulated to help you on your beauty journey."
Recommended dosage for both Nutraceuticals is once daily, maximum dose per day is two (2) capsules; Bella Trim should be taken 30 minutes before meal. Get the bottle of Bella Beauty Nutraceuticals for Php1,600 and Bella Trim Nutraceuticals for Php 3,900 at any Flawless clinic nationwide. Order online via https://flawless.com.ph/products to score these at 10% off! The special introductory price is valid until May 31, 2019 only.
---