Flawless Celebrates 18 Years with a 'Skinvestment'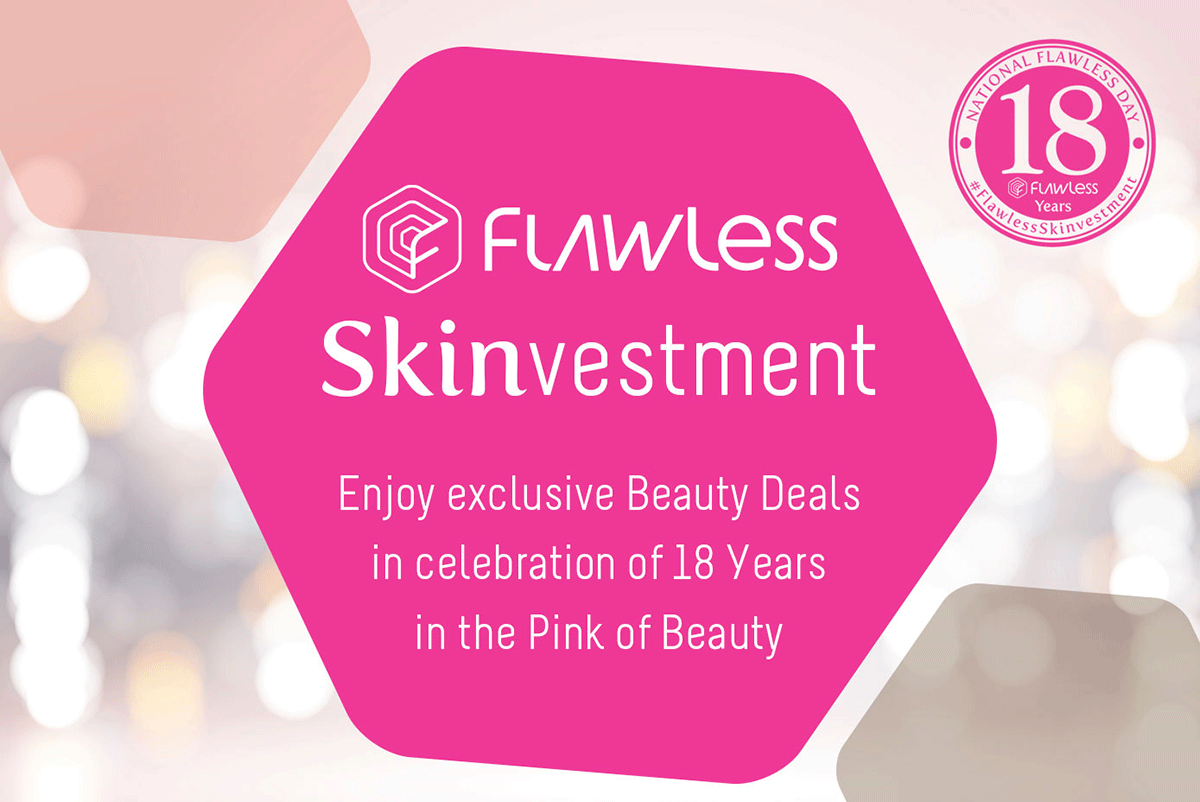 When we think about investment, we often think of properties, finances and making assets grow. But for Flawless, the country's preferred aesthetic clinic, a Skinvestment is one of the smartest ventures for any individual. Similar to life insurance, investing in skincare will not only help achieve one's beauty goal but also prevent serious skin issues.
As a pioneer in making beauty accessible to all Filipinos, Flawless encourages individuals to invest in their skin through its latest campaign, Flawless Skinvestment, which also celebrates the clinic's 18 years in the Pink of Beauty. The campaign highlights the Flawless effective skin solutions, Guaranteed Hygienic tools, highly trained Skin Professionals, FDA-approved products, and of course the clinic chain's most-awaited anniversary promos.
For October, beauty seekers can enjoy 30% discount on Laser Hair Removal and Smart PL treatments for underarm and bikini areas, Beauty Drip, Flawless White Injectable, and Flawless White Injectable with Vitamin C. Free facial sessions are also up for grabs this month. Clients get 3 complimentary sessions of any Regular Facial when they purchase ISKIN Transformation Kit and 2 sessions of Classic Facial for every purchase of ISKIN Starter Kit.
And for those who want to further upgrade their Skinvestment, Beauty Plans are available with Skinvestment Pink (pay only Php 40,000 for Php 50,000 worth of Flawless products and services) and Skinvestment Plus (Php 100,000 worth of Flawless products and services for only Php 80,000). Clients can avail these Beauty Plans from October to December 31, 2019.
"Flawless exists to empower men and women with beauty, and what better way to celebrate our 18 years in the industry but to give back to our clients," says Rubby Sy-Coyiuto, CEO and owner of Flawless. "We're not just giving back through promos and freebies but also by giving what each client deserves-quality beauty care."
More Flawless Skinvestment beauty deals are coming your way after October leading up to December 8, the founding date of the clinic chain, also known to many as National Flawless Day.
To know more about Flawless and Flawless Skinvestment campaign, visit www.flawless.com.ph or follow Flawless on social media via Facebook.com/FlawessFaceandBody, Twitter.com/Flawless_PH and Instagram.com/MyFlawless.
---