Discover the Power of Herculane Spring Water with Ivatherm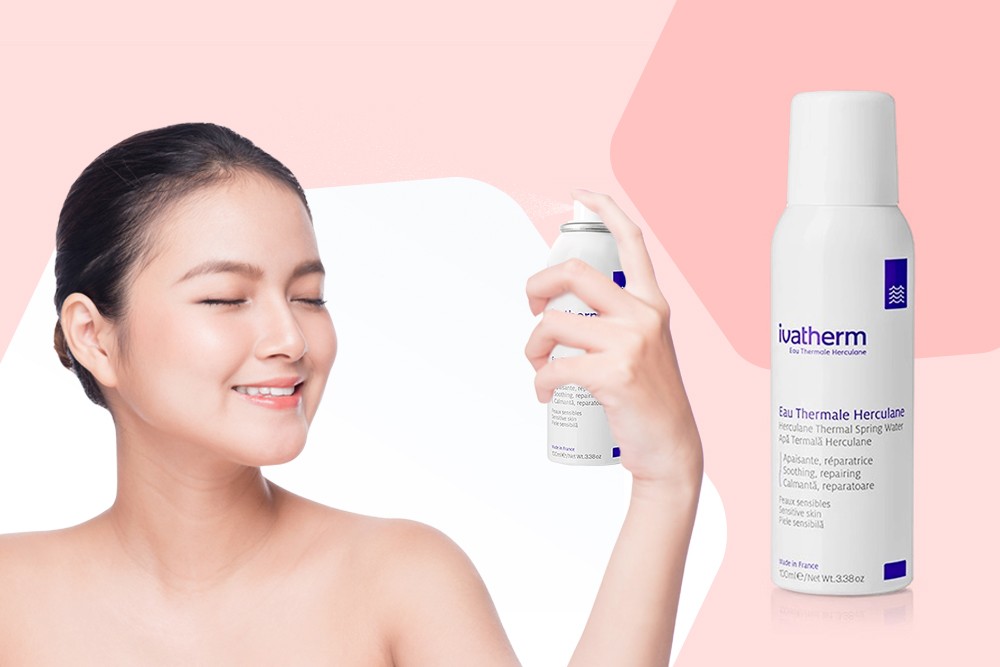 MANILA, PHILIPPINES- With the current global health situation and everyone wearing the face mask for long periods of time, it takes a toll on our skin due to friction, rubbing, and occlusion of the skin, causing 'maskne' or acne mechanica. Studies also show that frequent touching of your face can also spread germs and the virus.
Here's a solution: Ivatherm Herculane Thermal Spring Water. It comes in a spray can that can help you prevent both 'maskne' and stubborn skin irritation wherever you are! Say goodbye to unwanted zits and frequent touching of your face.
Perfect for those with sensitive skin and with medical conditions, the innovative French dermocosmetic products of Ivatherm uses the power of Herculane Thermal Spring Water. This unique water has strong anti-inflammatory properties for the skin and rich in Calcium, Copper, Magnesium, Zinc, and Iron. Together, these minerals heal, protect, and calm sensitive, allergic skin.
Aside from the Herculane Thermal Spring Water spray, more Ivatherm products are now available on Flawless Online Shop:
FOR SEBORRHEIC SKIN
IVADERMASEB Cream (Php 1,200) Repairing anti-inflammatory and moisturizing cream, which ensures the complete skincare of areas with seborrheic dermatitis (redness and flakiness)–wings of the nose, forehead, eyebrows, chin (adults) and forehead and scalp (cradle cap in infants). It has an anti-irritant action; an antifungal and antibacterial; it regulates peeling and reduces excessive sebum production.
IVADERMASEB Dandruff Shampoo (Php 1,250) The intensive anti-dandruff shampoo that regulates desquamation, redness, sebum excess, and itching sensation of the scalp. It has a reparative, antifungal, anti-inflammatory, soothing, and moisturizing effect. Adapted texture to scalp and hair care.
FOR HYDRATION
IVATHERM Herculane Thermal Spring Water (Php 700 for 100ml, Php 850 for 200ml) With a perfect balance of minerals, the Thermal Spring Water amazingly soothes the skin. It's an anti-inflammatory calming mist which can be applied to assist in the recovery phase of the skin from treatments. This product is good for all skin types.
TOLERISKIN Soothing Moisturizing Cream (Php 1,500) It soothes intolerant skin, hypersensitized by external and internal factors, with exceptional anti-microbial and hydration properties. Reduces the sensation of bites and stinging. Protects the skin by using a minimum number of safe active ingredients and lack of preservatives. Excellent tolerance.
IVATHERM Multi-performance Hydrating Face Cream (Php 1,100) Hydrates and ensures the intake of essential fatty acids and physiological balance of the skin cell regeneration. Dehydration occurs by altering the skin barrier function, by disrupting the default skin metabolism of skin lipids (ceramides, essential fatty acids).
AQUAFIL Hydra Light (Php 1,600) Deeply moisturizes immediately and in the long term. Recommended for sensitive, dehydrated, normal, and mixed skin. Light texture; normalizes sebum secretion all day long. Restores skin suppleness and prevents wrinkle formation.
FOR ANTI WRINKLES, ANTI-AGING, AND LIFTING
UNA Anti-Aging Cream 50ml (Php 2,250) Visibly reduces the depth and number of wrinkles on the face and neck, increases the firmness and thickness of the skin, and restores facial contour in 2 weeks. Vitalizes and protects the longevity of skin stem cells using plant stem cells, thus stimulating the regeneration of the epidermis. Light texture, ideal for normal or mixed sensitive skin.
UNA Anti-Aging Eye Contour Cream 15ml (Php 1,800) Represents the spectacular rejuvenation solution for mature skin. Visibly reduces the depth and number of "crow's feet," wrinkles, increases the brightness, and restores the suppleness and softness of mature skin. It vitalizes and protects the longevity of skin stem cells using stem cells plant, thus stimulating the regeneration of the epidermis. Light texture, ideal for normal or mixed sensitive skin.
GlykoLift Cream (Php 1,950) Cream with a lifting effect that significantly reduces wrinkles by 46% after just 1 month. Recommended for all skin types. With its innovative ingredients obtained through glycobiotechnology, the cream has an immediate and long-term wrinkle smoothing effect, offering the lovely feeling of "erasing time." It helps the skin combat extrinsic and intrinsic aging and regains its firmness and elasticity. Recommended for all types of mature skin (sensitive, normal/combination, or dry).
FOR OILY SKIN AND ACNE REDUCTION
IVAPUR Gentle Purifying Scrub (Php 900) Gently exfoliates the layers of dead cells without causing irritation or skin sensitization. It prepares the skin for efficient application of the skincare cream, prevents skin inflammation, and gives a bright and even skin. Recommended for oily, acne-prone skin.
IVAPUR HIDRA Hydrating Cream (Php 1,000) Strongly and durably moisturizes the fragile and dehydrated skin, weakened by aggressive anti-acne treatments. Helps restore the skin barrier, suppleness, and the feeling of comfort of dry skin. Soothes irritated skin.
IVAPUR MAT Mattifying Cream (Php 1,050) Its non-greasy formula regulates excess sebum and has an anti-shine action, with a lasting mattifying effect on combination or oily skin. Moisturizes skin from within by stimulating the aquaporins synthesis channels that transport water at the cellular level, giving a smooth, soft, comfortable skin.
IVAPUR K Cream (Php 1,050) Sebo and keratoregulatory cream for oily skin with imperfections. Moisturizes and nourishes the skin, reduces the risk of irritation and scars, reduces inflammation. It is indicated for restoring the physiological balance of oily, acne-prone skin, during and between acne treatment lines.
FOR CLEANSING AND EXFOLIATING
TOLERISKIN Extremely Gentle Cleanser (Php 1,200) It cleanses, restores and strengthens the balance of intolerant skin, hypersensitized by external and internal factors by prebiotic effect on the skin's eco-system; maintaining the quality of the saprophytic flora present naturally on the skin at the expense of the pathogen. The skin regains its natural defense capacity. Calms the irritation and has antibacterial effect. It does not contain preservatives for excellent tolerance.
IVAPUR Purifying Foaming Gel 250ml (Php 1,050) Provides deep cleaning for the skin without drying it. Ivapur gel has inhibitory action on germs involved in acne; antibacterial, antifungal, moisturizing and anti-inflammatory effects; regulates the production of sebum; and with soothing and anti-irritant effect. Men can also use it instead of shaving foam. The combination of active ingredients provides a complete action: sebo-regulatory, anti-inflammatory, antibacterial, and antifungal. Best for sensitive oily or combination skin.
IVAHIDRA + Emollient Hydrating Body Cream (Php 1,200) Repairing and restructuring cream for very dry, atopy-prone sensitive skin; an emollient cream that provides deep, immediate and long term hydration. It is also very well-tolerated by the delicate skin of children and babies. With nourishing, anti-inflammatory, and antibacterial intense effect; and soothes discomfort and itching.
IVATHERM Multi-performance Cleansing Milk for Face and Eyes (Php 980) It cleanses and moisturizes dry skin.
For the list of the previously launched Ivatherm products please click this link.
Ivatherm products are currently available on Flawless Online Shop and the following Flawless clinics: Flawless SM Cebu, Flawless SM Makati Flawless SM Mall of Asia, Flawless SM Megamall, Flawless SM North EDSA Annex, and Flawless TriNoma.
---