Easy Ways to Repurpose Your Skincare Containers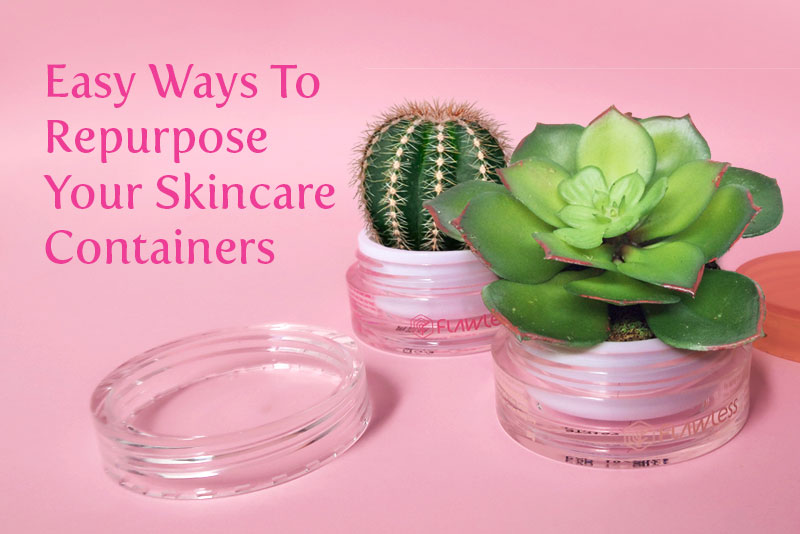 Being a sustainable brand is our ultimate goal. While we're preparing for something big in the near future, we, at Flawless Face & Body Clinic, want to start now and slowly encourage our BFFs to recycle or repurpose all empty Flawless skincare containers to avoid waste. So, if you have any Flawless cream jars or plastic bottles lying around, don't throw them out! Here are some eco-friendly ideas you can follow to repurpose those beauty containers.
Use it to store small items or organize supplies
Whether it's your office supplies or DIY stuff, all of these can fit in your old Age Defy, Skin Renew, White Plus, or Skin White Therapy cream jars.
Use it to pot plants or succulents
Calling all plantitas and plantitos out there! No need to purchase new pots as you may also repurpose skincare containers by using them to pot your plant babies. It's cute and it fits just right on your WFH desk or mini garden--what more could you ask for?
Use it as a pill container
Make sure you get your daily dose of vitamins of Bella Beauty or Bella Trim Nutraceuticals even when you're out and about by transferring it to a container. Make sure that you clean the skincare containers thoroughly before repurposing them!
Use it as a pretty vase
Another way to brighten up your home office desk is by reusing your old Pimple Clear Astringent, Facial Toner, Whitening Toner, or Pore Refiner bottles by using it as a pretty vase. Just rinse thoroughly, fill it with water, get your fave flowers, and voila, now you have a gorgeous table accent.
Happy Earth Day 2021, BFFs! Let's all do our part in saving the only planet we live in, even one small step at a time.
Shop your favorite Flawless products online! Visit shop.flawless.com.ph now. You can also find us on LazMall, Shopee, Calyxta, and on our official Flawless Skinvestors' online pages. To know more about Flawless, visit flawless.com.ph or follow Flawless on social media via @FlawlessFaceandBody on Facebook, @myflawless on Instagram, and flawless_ph on Twitter.
---