Be #Guaranteed Hygienic and Safe with the Flawless Safety Mask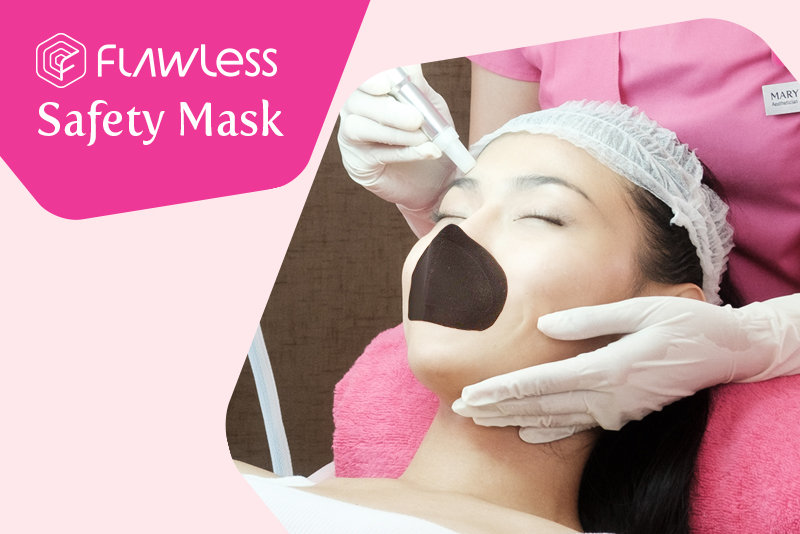 Flawless Face and Body Clinic elevates its brand promise of being Guaranteed Hygienic with the added layer of protection for their clients and staff–the Flawless Safety Mask.
The Flawless Safety Mask is provided to clients who want to undergo facial services or other treatments on the face. This is used to prevent the transmission and spread of viruses in Flawless clinics while rendering services and MD treatments. With this, Flawless clinics can now accept medical and non-medical procedures on the face, while complying with the Inter-Agency Task Force on Emerging Infectious Diseases (IATF) protocols.
This is made from 100% breathable cotton and features an innovative elastic kinesiology technology, which mimics human skin and allows for a comfortable, flexible fit. It has also been independently lab tested and proved to have a Bacterial Filtration Efficiency of over 99%, shielding droplets and particles. All these and more, to make sure that you feel safe and protected while you're having your much-needed Flawless treatments!
What are you waiting for? Visit a Flawless clinic near you or book in advance via https://flawless.com.ph/bookappointment. You may also call your preferred clinic for appointments, you can find their numbers here: https://flawless.com.ph/contactus. Let us know your Flawless Safety Mask experience by tagging us in your posts!
To know more about Flawless, visit flawless.com.ph or follow Flawless on social media via @FlawlessFaceandBody on Facebook and @myflawless on Instagram.
---