Introducing the Flawless Transformation Sets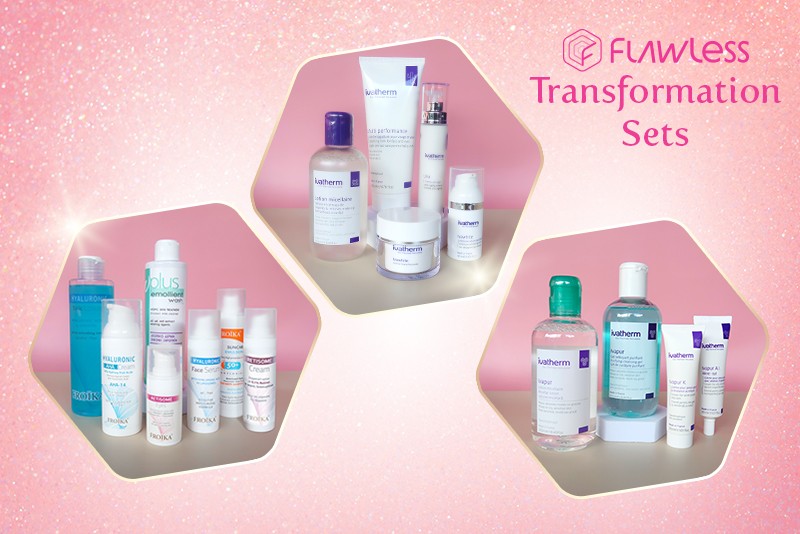 In response to the needs of our clients for more products to use while they are at home, Flawless Face & Body Clinic has come up with all-new exclusive sets recommended by the Medical Director–the Flawless Transformation Sets.
Flawless Transformation Sets include imported products from best-selling, globally-recognized brands, Froika and Ivatherm. After months of research, these product combinations proved to be the most effective when it comes to addressing the most common skin problems of today: dry and dull, and acne-prone skin. Clients can get a set depending on their goal: rejuvenate, radiate, or clear your acne.
Get to know more about the Flawless Transformation Sets below.
Flawless Rejuvenating Set
The Flawless Rejuvenating Set brings a holistic approach to rejuvenating skin with a combination of Omega acids, hyaluronic acid, AHAs and anti-aging ingredients. Best for dehydrated, uneven, rough, or mature skin.
Flawless Rejuvenating Set includes the following:
W-Plus Emollient Wash
Hyaluronic Tonic Lotion
Hyaluronic Face Serum
Hyaluronic AHA-14 Cream
Suncare Emulsion SPF 50+
Retisome Eyes
Retisome Face Cream
Flawless Radiance Set
The Flawless Radiance Set is a whitening and anti-aging set that has anti-inflammatory properties recommended for sensitive skin.
Flawless Radiance Set includes the following:
Multi-performance Cleansing Milk For Face & Eyes
Micellar Lotion
Ivawhite Intensive Whitening Serum
Ivawhite Whitening Cream
UNA Anti-Aging Cream
Flawless AcneClear Set
The Flawless AcneClear Set is a purifying treatment set recommended for mild to moderate adult acne.
Flawless AcneClear Set includes the following:
Ivapur Purifying Foaming Gel
Ivapur Micellar Lotion
Ivapur K Cream
Ivapur A.I Akne-Syt
For a limited time, Flawless Transformation Sets are available for purchase on Flawless Online Shop, at a special introductory price of 15% off! You can get it until September 30, 2021, only. Click this link to shop:
https://shop.flawless.com.ph/collections/flawlessathome
The Flawless Transformation Sets will be available soon in select clinics nationwide!
To know more about Flawless, visit flawless.com.ph or follow Flawless on social media via @FlawlessFaceandBody on Facebook and @myflawless on Instagram.
---