Revisiting the Very Own Beauty Journey of Flawless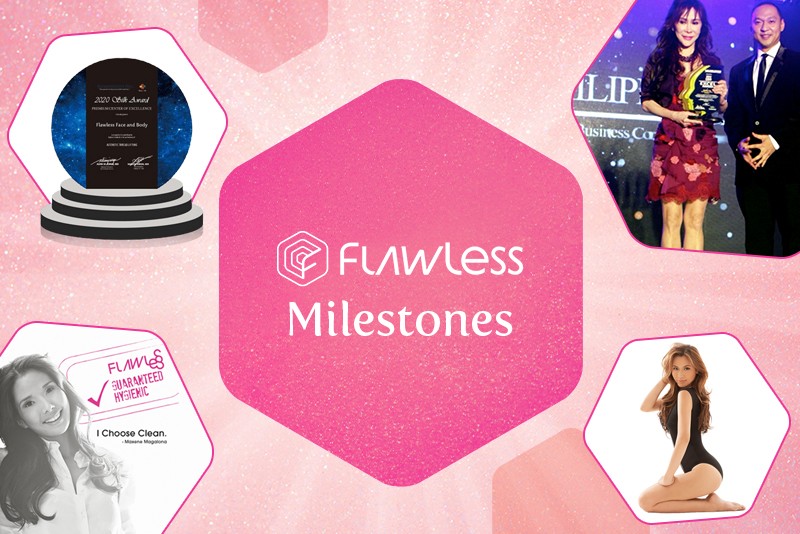 Here are two decades worth of Flawless' breakthroughs
Twenty years. If you ask Flawless Face & Body Clinic, the way they imagined how to celebrate their 20th year is far from what actually transpired. With the global pandemic, Flawless, along with other businesses in the country, suffered greatly over the past few months. It was indeed a tough road towards Flawless' two-decade milestone, yet, here they are now, still standing & grateful for all these years.
"If there's one thing that we are proud of this year-aside from our 20th anniversary-is that Flawless was able to adapt fast to the unpredictable landscape," shares Flawless Founder and CEO Rubby Sy-Coyiuto. "Since most of our clinics were closed, we quickly moved to help our clients who can't go out. We launched a free consultation via Facebook; strengthened our e-commerce, especially the Flawless Online Shop which we launched a year before the pandemic happened; and of course, offered new products to answer our BFFs' ever-changing needs."
All that and more, definitely helped Flawless reach their 20th year in flying colors last December 8. And instead of the planned big birthday bash, Flawless successfully held a Flawless Iconic BeautyCon--a live selling event on Facebook which featured up to 50% off discounts on products, Flawless Services, and MD Treatments. With the majority of clinics open, promos on services were also launched–the 20 for 20 promo, Iconic Perks, Iconic Beauty Online Exclusives, Iconic Glow Up, and the Pink Promise.
This just proves that whatever may come, Flawless will adjust and continue to serve their beloved clients who have been with them through the years.
Now, let's take a look back at some of the other memorable Flawless moments through the years here:
We also train the spotlight to the woman of the hour. The Queen of Flawless who brought affordable & effective skincare to Filipinos, Rubby Sy-Coyiuto:
Happy anniversary, BFFs! Cheers to more fab, Flawless years!
To know more about Flawless and Flawless Iconic Beauty campaign, visit www.flawless.com.ph. Shop your faves & checkout Flawless deals on shop.flawless.com.ph.
More promos are going to be launched soon! Follow the official Flawless social media accounts via Facebook.com/FlawlessFaceandBody, Twitter.com/Flawless_PH, and Instagram.com/MyFlawless.
---